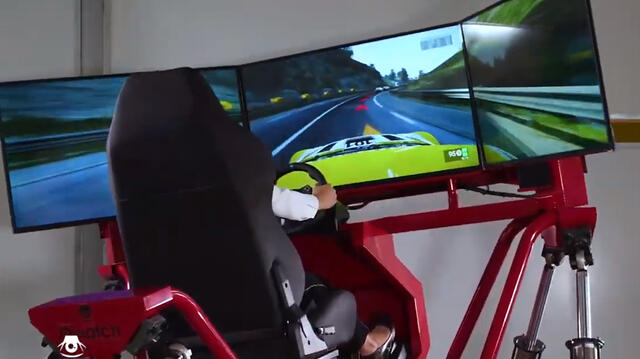 Are The Car Driving Simulators For New Learners Effective?
Drivers worldwide have always had to undergo theoretical and practical tests when applying for a license. A driving exam is designed to determine whether a person has the essential skills and knowledge to operate a vehicle safely and comply with local and national traffic regulations. The purpose of driver education is admirable, and the demand for it is undeniable, but the methods used to achieve it have become old.
Traditional methods of training and testing drivers have several disadvantages. It does not test a driver's ability to react to occasional but unexpected occurrences because it does not imitate actual driving conditions. As a result, how should we approach this problem? The most practical and effective solution to address this challenge is training and testing drivers in a virtual driving environment. Driving simulators can test a driver's skills and ability to operate in great detail without causing wrecks, incidents, or injuries.
What Tests Are Required To Get A Driving License?
The most prevalent driving tests in all countries are a combination of practical and theoretical examinations. The theory test determines if a driver understands the country's specific traffic laws and regulations. According to the many driving test models used worldwide, it could be an oral or written exam. This test is given to all applicants for a driver's license to ensure impartiality.
Depending on the state, drivers may be required to take their road tests in real-world or simulated traffic conditions. As previously stated, there are national differences. Driving past cones, emergency stops, parallel parking, shifting gears, and changing lanes is part of the road test.
Traditional driving tests do not always reflect a driver's ability to operate a car safely. There would be fewer traffic accidents if this were the case. Every year, almost 1.3 million people are killed in automobile accidents. The examiners' opinions also impact the outcomes of a driver's test. Some examiners may be more lenient than others regarding racing drivers. As a result, human intervention in scoring patterns is a significant problem.
What Makes Driving Simulators So Popular?
According to industry experts, the need for driving simulators has increased dramatically due to rising road accident rates, investment in autonomous vehicles, and a shortage of certified drivers.
Simulators for driving instruction are already used in countries like the United Kingdom, the Netherlands, and Finland. To earn a driver's license in Singapore, motorists must first complete a simulator course. The Singapore Traffic Police studied the most prevalent causes of traffic accidents in their country and concluded that simulator training could help drivers in driving better and avoid potential accidents. All drivers must complete three simulated driving sessions to understand safe driving habits.
There are numerous factors behind the popularity of driving simulators; some of them are listed here:
Determines the amount of alcohol in the blood
Simulators are a great way to examine the effects of alcohol on a driver's skills. In addition, a simulator can be used to investigate the impact of varying levels of blood alcohol concentration on a person's behaviour and outcomes.
Investigating the skills of elderly
A simulator can assess a driver's emergency response time and general reaction time to see if they have been slowed down by ageing. Ageing can impair driving abilities due to delayed motor reflexes, diminished vision, and other health issues.
Observes the behaviours of the driver
Driving simulators can be used to study driver behaviour in great detail. For example, researchers can use simulators to analyse how drivers behave in unexpected situations, such as tire failure, extreme weather, and tread separation.
Measures the impact of illness
Drivers with diseases such as hypertension are more likely to encounter problems on the road. In a virtual reality environment, drowsiness, tiredness, inattention, and back discomfort can be investigated. In addition, because they routinely travel long distances, heavy-vehicle drivers are prone to sleep disorders and weariness.
Evaluates the impact of distraction
It is very dangerous to examine the effects of wireless gadgets on drivers while they are on the road. So instead, simulators can test drivers' attention and assess how long and intense phone calls affect their ability to focus.
The best part is that all the tasks mentioned above of a car driving simulator occur in a safe environment without any discomfort or accident.
In a Nutshell
Simulators are no longer limited to gaming hub only; they are now used for research, training, and testing. In addition, simulators' application for various purposes has increased due to new technology and to boost road safety.