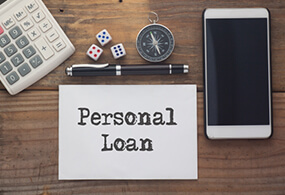 What Should You Know Before Applying for Joint Loans?
As they say, "two heads are better than one", you can even consider this saying while applying for a loan. Yes, it is better known as a joint loan.
While there are certain benefits to a joint loan, such as the possibility of being eligible for a broader range of financing sources and getting offers with attractive interest rates, there are also significant risks.
Being legally compelled to repay the total outstanding loan or debt is joint borrowers' most considerable risk. If you're interested in a joint loan, you should understand how it works and whether it's a suitable option in your situation.
What Is a Joint Loan?
Taking out a loan or other kind of financing jointly with another person—often referred to as a co-borrower—is known as a joint loan. It is because the co-borrower shares debt ownership and repayment responsibilities.
The two most common types of joint loans are mortgages and vehicle loans, but a joint Personal Loan is also offered. Joint Personal Loans are a wise substitute for individuals whose income or credit scores restrict approval. By including a co-borrower, you might be able to get better terms, like a reduced APR or an enormous loan amount. A joint loan may also impact your credit records and scores.
What Kinds of Joint Loans Are Available?
With your partner, friends, family, or business partners, you can opt to apply for a variety of loans.
Secured Loan –

To purchase your ideal home, you and your spouse can obtain a secured loan in the form of a mortgage. Applications for mortgages are carefully considered and have a high probability of being turned down—your chances of getting a mortgage increase if you live with a partner with excellent credit.

Unsecured loans –

Couples, friends, and relatives can apply for joint unsecured Personal Loans from numerous lenders and financial institutions. If a joint loan is not an option, you can prefer a guarantor loan by having your partner co-sign your loan request.
How to Obtain a Joint Loan?
If both partners have a membership, you may be able to apply for a joint Personal Loan from specific online lenders, NBFC, or financial institutions. The steps of applying for a joint Personal Loan are as follows:
Examine the requirements by paying particular attention to the lender's debt-to-income ratio and credit score standards.

With most online lenders and some financial institutions, you and your co-borrower can pre-qualify to see your estimated rate before agreeing to a loan. Your credit rating is unaffected by pre-qualification.

When comparing lenders, evaluate the APRs, repayment periods, and potential expenses associated with each joint loan offer, such as origination and late charges.

After selecting the best offer, you can include a co-borrower in the loan application. When you

apply for a Personal Loan

, the lender may demand personal and financial paperwork.

Lenders will perform a hard credit check after you confirm the application's details, temporarily lowering your credit score. You both must agree to the loan agreement after approval.
Benefits And Drawbacks of Joint Loans:
Here are some benefits and drawbacks of this sort of borrowing agreement.
Pros:
You will get a higher probability of approval or acquiring a better offer. A co-borrower with good financial history could make a significant difference if you have issues with your debt-to-income ratio or poor credit.

Your borrowing ability depends on your income and debts, even if you have a high credit score. You might be able to borrow more money if you add a co-applicant with extra income to your loan application.

Your credit history and scores may eventually increase with an adequately managed joint account.
Cons:
If you take out a joint loan, you agree to be fully responsible for the debt. The lender will still require you to pay even if your co-borrower is unable or unwilling to do so.

Your credit ratings may suffer if you cannot make monthly payments on a joint account.
Conclusion:
Any loan should be taken only after giving it some thought. Co-borrowing is a profitable decision with many advantages supporting it. But also check its disadvantages before signing a joint loan agreement.