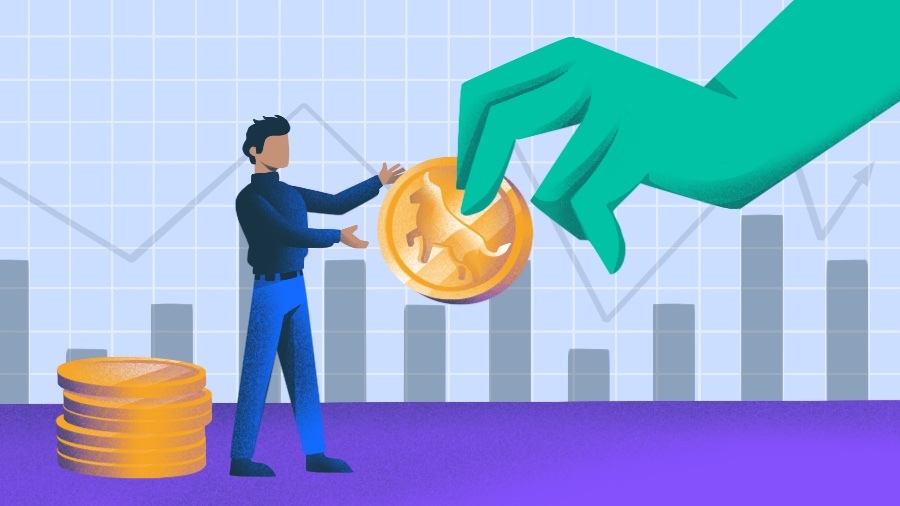 Purpose of Revenue Retention and How to Increase Your Revenue Retention Rate
What is Net Revenue Retention Rate?
Net Revenue Retention (NRR) Rate also referred to in the form of Net Dollar Retention (NDR) is the amount of recurring revenue that is retained by customers who have been with us for a specific time frame, which includes growth revenue, downgrades, and cancellations.
This churn measure provides an extensive overview of both positive and negative shifts in relation to the retention of customers. A great NDR could be anywhere from 90% and 125%, depending on the size of the customer you want to retain.
Net Revenue Retention Vs. Gross Revenue Retention
Since we're talking about the subject of revenue retention, let's take a brief look at gross revenue retention (GRR). The calculation of gross revenue is crucial to understand since it does not take into account price increases and growth within the customer database.
Since it doesn't take into account upsells, the gross retention calculation is a more reliable metric and provides a better measure of whether your business is keeping its revenue from existing customers over the course of its life.
What Is the Purpose of Net Revenue Retention?
NRR is an important measure for subscription businesses and SaaS executives who want to determine how sustainable their company's revenue growth. The current volatility period has seen a shift of "growth at all costs" to an emphasis on sustainable growth, specifically for investors.
The sustainable growth of SaaS depends on keeping your current customers as well as increasing the number of accounts they have with your company. In this regard report, the reporting of your monthly recurring revenues (MRR) does not quite do it.
A high level of churn and account shrinkage could be a sign of issues with your product's value proposition price strategy, pricing strategy and the customer's experience, and so on. If your measure of achievement can be measured by MRR expansion, those issues are often covered with high acquisition rates.
A high rate of net revenue retention indicates steady and sustainable growth. And the higher rate, the greater your chances of establishing a good reputation with investors.
How to Increase Your Revenue Retention Rate?
Because revenue retention is directly in contrast to churn, we can apply the same strategies we use to decrease the amount of churn in order to boost our rate of revenue retention.
This begins and ends by making sure your customers are happy and satisfied, which includes (but not only) providing improvements and a successful team, and identifying innovative ways to retain the customer who is close to churning.
Let's explore all of them more deeply.
In the revenue retention calculation upgrade options are important. Offering your customers, the option to buy new products or features, as well as upgrading to a higher-cost subscription level or adding on complementary tools can be a significant factor in the retention of revenue.
Any chance you have to expand your MRR could lead to an increase in your rate of revenue retention.
Invest in Customer Success
Did you realize that U.S businesses are losing more than $62 billion each year because of poor customer service?
This is a significant amount of money that could remain used to invest in a new company. Although you might want to concentrate on the development of your product in the initial phases of your business You should also have a customer support team in place to keep the initial customers satisfied.
Offer Alternatives to Churned Customers
Breakups can be difficult. But not all customers who exist churned must be lost cause!
There are many possibilities to provide alternatives to customers who are looking to end their relationship. This could include providing a downgrade to a lower price or offering a temporary discount to retain customers.
Sure, downgrading can impact your retention rate However, a drop in the number of revenues per client is much simpler to accept rather than losing the customer completely.
How to Optimize NRR and GRR?
It is important to remember the distinction between gross and net retention. aren't the same thing as customer retention. While customer retention remain a measure of the number of customers that are retained while the two NRR and GRR rather focus on the amount of revenue that exist retained. So, the amount of customers is not as important.
As stated, optimizing the GRR and NRR is crucial for investors. In order to give your business, the best chance to secure funds, the rates of revenue retention must be analyzed and enhanced. Since churn rates have an impact directly on the two KPIs, the reasons behind it must be fully understood for improvement.
For SaaS companies, typical reasons for churn are insufficient customer service support, as well as technical problems. Although you won't be able to do much against your competition you can concentrate on improving your features in order to stop revenue losses because of the phenomenon of churn.
Maintaining your customer base can additionally have enhanced when you take the correct actions at every step along the customer's journey.
For example, forcing new customers to upgrade immediately can hurt the rate of growth and could result in the customer being unable to upgrade. After 6 months of onboarding (including numerous emails and marketing materials) the customer is more prepared for an upsell.
While most SaaS companies would rather skip over analysis These KPIs are the most important factor for investors. In order to better prepare your business for the possibility of putting funds back into your business to enhance services go through some of our most successful SaaS case studies of start-ups for R&D funding.
Final Takeaway: Increase the Net Retention of Revenue
It's a known fact that a satisfied customer will spend more money on your business than a brand new one. If you're selling your software for $50/month, then your objective as a SaaS specialist should be to determine to increase this number to $100 per month.
You must find ways to grow your business by partnering with your existing customers. This is the biggest change to the business model SaaS has provided.
In the case of expansion of a business by acquiring existing customers, maintaining the revenue that is recurring and preventing revenue churn is obviously the most crucial objective. However, that's not the end of the story.45
In addition to cross-sells and upsells and cross-sells, you should also review your SaaS pricing frequently. However, this must exist backed by a rationale. Inflation is undoubtedly the most obvious, but there is nothing more persuasive to customers than regular updates and enhancements.