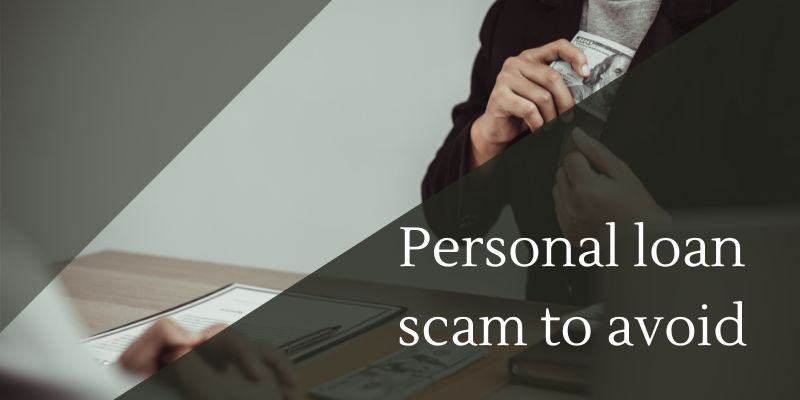 Personal Loan Scam to Avoid
People who require immediate finances to fulfill scheduled or unanticipated expenses would benefit from quick personal loans. Scams, on the other hand, may strike where it hurts the most. Borrowers facing an emergency or struggling to make ends meet are mentally and emotionally susceptible, making them easy prey for con artists. To make the greatest use of your personal loan while avoiding scams, you must be aware of such schemes. In 2022, we will tell you about some frequent personal loan scams to avoid.
Payment in advance to apply for a loan
Imagine going to several different loan lenders and being turned down everywhere. However, if you are in severe need of money, you might call a loan broker who can use their clout to secure a loan for you. They handle all of the paperwork and guarantee that your loan will be approved if you pay the processing fee on time. You may pay the money and wait for the loan approval, which you will never receive.
Only phony lenders and agents demand upfront processing costs. A trustworthy lender will have a clear loan application process with all fees listed in the loan paperwork. They never accept the charge up front, instead of deducting it from the entire loan amount. Some lenders may ask for the processing fee after the loan has been approved, but no one ever asks for it beforehand in cash.
Phishing Scams Online
Many lenders now allow you to apply for a loan online from the convenience of your smartphone or computer. When potential borrower searches for a personal loan online, they are flooded with emails from possible lenders. You simply need to click the link to be taken to their website, where you can apply for a personal loan in minutes. Because it is a financial problem, you must disclose some sensitive information for the loan to be approved. However, you must use caution while clicking on such links. Some websites may lead to phishing scams that collect personal and financial information to misuse it for profit.
Asking your friends for references is one technique to discover a reputable lender. If they have already obtained a loan from a lender and are properly servicing it, they are most likely a legitimate lender that will not defraud you. Another option is to make sure the online loan application website to which you are directed is secure. You can trust it for security if it starts with 'HTTPS' and has a padlock at the beginning of the URL. You may rest assured that any information you provide on this website will be kept private and secure.
Guaranteed Loan Approval
A lender who guarantees loan approval appears to be a godsend, especially when you need money right away. Most individuals are drawn to it because of the assurance, only to discover later that they have been tricked by a hoax. To avoid falling victim to such a scam, keep in mind that your loan acceptance is contingent on several variables that lenders assess before approving your loan application. These factors include the amount of your loan, the reason for your loan application, your credit score, payback history, personal loan eligibility, documentation, DTI ratio, credit utilization ratio, income, repayment ability, and more.
Although some lenders may advertise rapid loan approval, there is no such thing as a loan approval guarantee. Lenders will only approve your loan application if you meet all of their eligibility requirements and other terms. Guaranteed loan approval lenders are merely utilizing low-cost methods to attract borrowers and may deceive you in some way.
Communication Scam
You may receive spam calls and emails claiming that you are qualified for a personal loan and that the offer is about to expire. If you need money right away or have an upcoming expense, you may feel compelled to move quickly and contact the lender before they retract their offer. Many lenders use these tactics to entice borrowers and acquire their money or personal information.
Remember that a legitimate lender will never approve a loan without first verifying your eligibility and credit score. Before providing you with a loan amount, they will verify your information and documentation. As a result, disregard such a communication ruse and only accept a loan offer if you have applied for it.
Advice on how to prevent personal loan scam
If a lender states that they will accept your loan without reviewing your paperwork or credit score. They are most likely attempting to entice you and ultimately defraud you.
It's best to go the other way if you can't find the lender's physical address on their website. Even if it is mentioned, it could be a forgery. Use Google Maps or a site directory to verify the lender's address and validity.
Be wary of lenders who do not provide full disclosure of their loan application and processing fees.
Before applying for a personal loan, read the lender's online reviews and testimonies. Look for positive feedback from previous or current borrowers. If there are a lot of unfavorable reviews, stay away and hunt for something else.