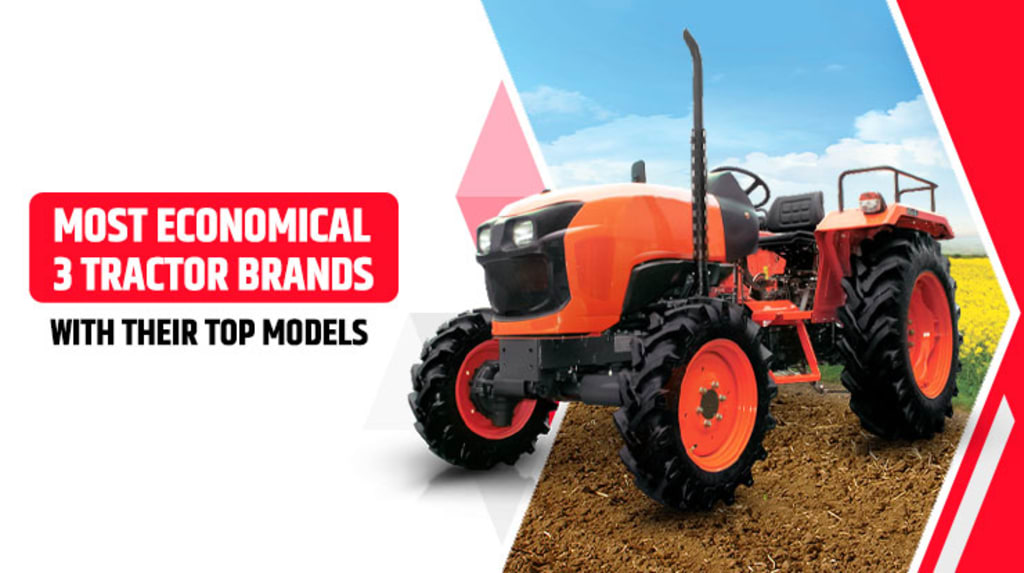 Most Economical 3 Tractor Brands with Their Top Models
Tractors are the most prominent part of farming; therefore, you should be familiar with 3 renowned tractor brands that deliver tractor models with reasonable prices and super features. These tractors are super classy tractors with sterling features and launched with advanced technical solutions. Kubota, Massey Ferguson & New Holland produce the tractor models that come with effective and efficient features which provide high productivity in farming. Therefore, these 3 tractor brands provide the best models for those who want to buy a perfect tractor at a fair price. Here, we dispense the information about these tractor models: Road price, Specifications and many more.
A. Kubota Tractor Brand
Kubota's agricultural types of machinery are well-known for their high performance, high durability and comfortable driving space. This company continues to provide high-quality tractors which support efficient and easy farming with the range of 21 HP to 55 HP. Kubota tractor models with advanced technologies have built a solid reputation worldwide among the farmers. In addition, these tractor models are well-known for the process of farming. In the below section, you will find the Kubota tractor model with features.
1. Kubota MU 5501 Tractor
This tractor has 8 Forward + 4 Reverse gearbox, a maximum of 31 km/h Forward speed and a reverse speed of 13 km/h.
The MU5501 Kubota tractor comes with an Oil Immersed Disc brake and heavy hydraulic lifting capacity.
Apart from this, Kubota manufactures its tractors as per the requirement of the customers.
Kubota tractor MU 5501 tractor is available at a reasonable price in India and fits perfectly in the budget of every farmer.
In addition, The Kubota MU5501 has a hydraulic lifting capacity of 1800 kg to 2100 kg with a massive fuel tank that comes with 65 litres capacity.
Kubota MU5501 is available in the price range of Rs 9.31 Lakhs* to Rs. 11.03 Lakhs*.
B. Massey Ferguson Tractor Brand
Massey Ferguson tractors are the ideal manufacturer for commercial or agricultural operations. In addition, Massey Ferguson tractor models comes with innovative technology, which helps in increasing production in the fields. Furthermore, this tractor brand provides the 18 HP to 75 HP range of tractor models with durability, rigidity, power, and performance. Let's look at the Massey Ferguson tractor model with complete specifications.
1. Massey Ferguson 7250 DI Tractor
Massey Ferguson 7250 DI engine is connected with 2 reverse + 8 forward gears for better performance. This gear ratio helps achieve maximum performance on the farm and carry out heavy-duty tasks.
Additionally, the Massey Ferguson DI comes with a 2300 Kg lifting capacity.
Massey Ferguson 7250 DI comes with a 2-wheel drive powered by 2 rear wheels. In addition, this tractor is loaded with oil-immersed brakes as it provides power and improves comfort.
This tractor is available with 6 x 16 Inches front and 13.6 X 28 / 14.9 X 28 inches tyre setup in the rear. In addition, the lifting performance is improved due to the ADDC hydraulic controls used in the system.
Also, Massey Ferguson 7250 DI delivers long productive hours on farms due to its fuel tank capacity of 55 litres and fuel-efficient engine.
Massey Ferguson 7250 DI price starts from Rs 6.15 Lakh* and goes up to Rs 6.75 Lakh*.
C. New Holland Tractor Brand
New Holland Agriculture currently offers a technologically superior range of 35 HP to 90 HP tractor models in India. It is the first company to provide Indian farmers with the most suitable and advanced mechanization solutions to increase crop productivity and profitability. New Holland tractor models were found to be the best solution in the cultivation process. Here below, you'll get the best tractor model with features.
1. New Holland 3600-2 TX All Rounder Plus+
New Holland 3600-2 TX All Rounder Plus+ comes with a Double Clutch with an independent PTO lever. This clutch makes the tractor easy to use.
It gets an 8+2 / 12+3 CR* / 12+3 UG* gearbox; the gears of this gearbox provide movement to the driving wheels.
New Holland 3600-2 All-Rounder manufactured with Oil Immersed Multi Disc Brakes. These brakes avoid slippage and ensure the safety of the operators.
New Holland 3600-2 TX All Rounder Plus+ steering wheel has smooth power. This efficient steering provides easy operation and quick response.
It offers a large 60-litre fuel tank capacity for a long run on farms. Moreover, this big fuel tank is reliable for farming.
For further information regarding tractor models in India, stay tuned with us.