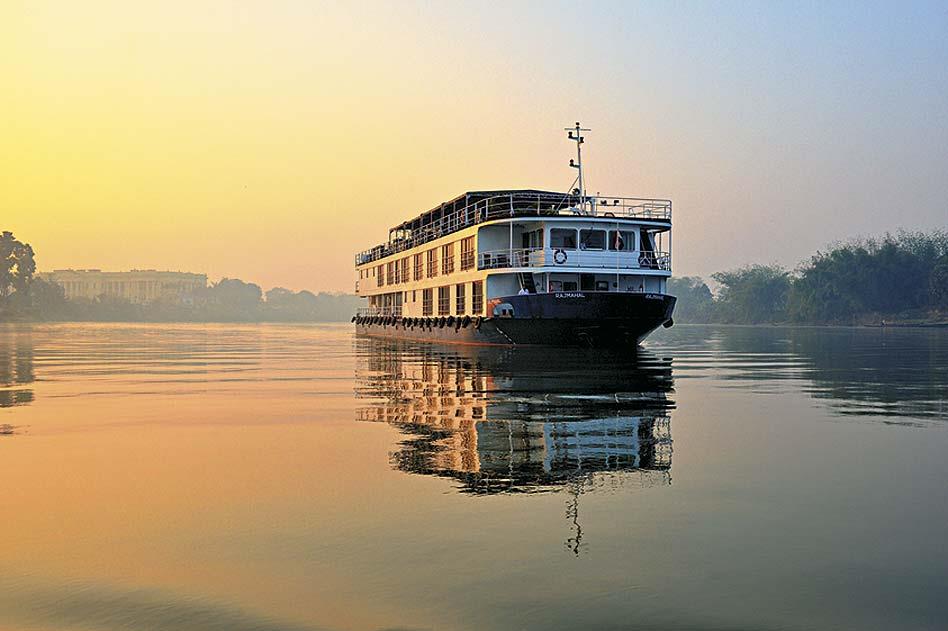 Mandovi River Cruise at the Sunrise
An Overview
Goa is best known for its scenic and picturesque landscapes. It has a never-ending list of activities, widely appreciated and loved by tourists from all over the world.
If you are planning what to do just like us, to avoid such a boring situation in your life then here is a solution. Travelling and exploring new places and people is the best option to entertain yourself.
What's better than Goa? It welcomes you in a world of natural splendour and amazing nightlife. The moment you enter Goa, you will definitely fall in love with it.
The Cruise
Mandovi River Cruise is the best place to travel solo, with friends and family. With the lush mangroves on both sides you will be mesmerised by the fascinating views of nature and crystal blue water. You can also spot crocodiles lying on the banks of the river and many migratory birds on the trees.
Tourist Jetty, Patto, Panjim, below Mandovi Bridge
– Mouth watering Mandovi River Dinner Cruise: 8:00 PM – 10:00 PM
– Upto 1 hour Sundown Cruise: 7:45 PM – 8:45 PM
– Upto 1.5 hours Sunset Cruise: 6:00 PM – 7:30 PM
Approximately 1-2 hours (depending upon the choice of your package)
Highlights of Sunset Cruise
When you are busy getting amazed by the mesmerizing sunset, all arrangements for your entertainment are supervised.
The classical form of dance "Dekhni" of Goa would be performed by a group of Goan dancers which will be worth watching. Moreover, the women will perform a traditional dance form which is known as "Fugdi".
Once all these eye-catching performances are over, you will also get your own chance to dance and sing with a rocking DJ. A group of families, friends, cousins or couples can relax here after a busy day of sightseeing.
You will get to see the most beautiful two-hour Goa sunset on your cruise.
Trust us, you will be amazed to see the twilight views of the ocean & Goa coast.
Relax your soul and mind out on deck with Beautiful sunset views.
Give yourself a treat with some mouth watering snacks and drinks. Counters are available on the cruise only where you can have your favourite drink and food.
Overview
Grab the chance to have a look at the Adil Shah Palace, various decked up floating mesmerising Casinos in the river, and the majestic Marriott Hotel. You should definitely not miss out on the chance to have some enjoyment in the waters of the Mandovi. Panjim city looks very exciting and eye-catching at night, the moonlight, the sunset on the early trip and shiny stars in the sky make it an experience worth remembering. This trip has a little bit of pleasure and uniqueness for everyone.
Things You Need To Know
Both pick up and drop facilities will be provided from any hotel in North Goa.
Welcome drinks, Tea and mouth watering dinner and breakfast are included in this houseboat package.
The package doesn't include alcohol and any other alcoholic beverages but you can get it from the bar in the houseboat at reasonable rates.
Make sure you carry your own sunglasses and sunscreens and wear comfortable loose clothes.
Carrying your camera will be an additional benefit to capture the sweet moments to take them back home.
Spot Crocodiles in River
Now it's time to get some chills and wild feelings as you enter the Zuari river, so get ready with your cameras to capture some creatures as you will come to see the crocodiles lying peacefully. Take a selfie with the crocodile and show your swag to your squad.
There is no need to worry as it is not at all dangerous because these crocodiles are familiar with humans around them. And the staff on the luxurious houseboat is well-trained and experts for all the situations. But respect the animals in their natural habitat and do not harm them in any way.
How to reach?
The distance between Panjim and Goa International Airport is about 27 km. You can easily hire a cab or take any other public transport to reach the location.
The distance between Panjim and the Karmali railway station is approximately 13.2 km. You can hire a cab or take any other public transport easily from the railway station.
The meeting point is 2.9 km from the city centre of Panjim. It can be easily accessed using both, the public or private mode of transportation. The exact destination will only be conveyed after your booking has been confirmed.