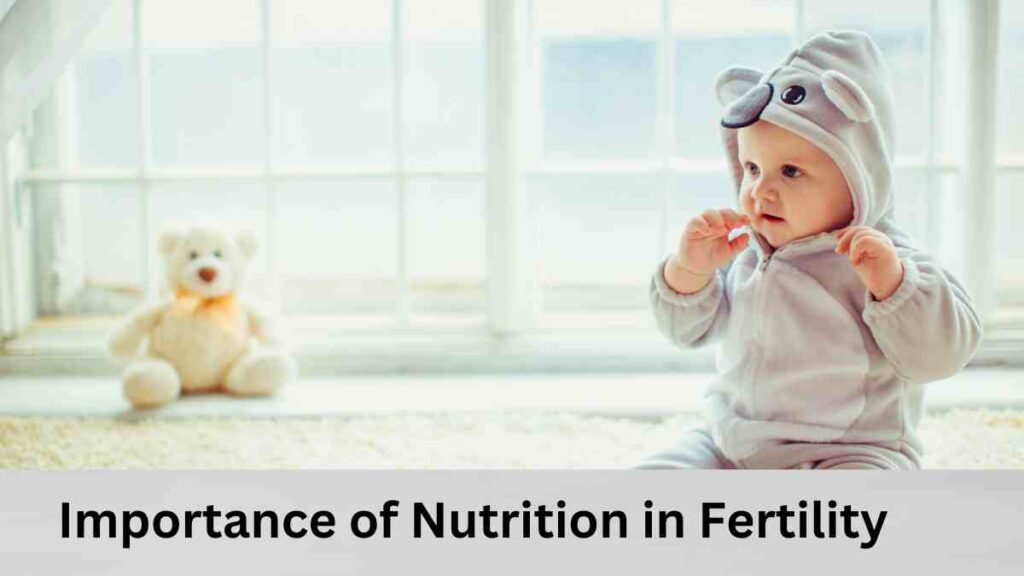 Importance of Nutrition in Fertility
In today's society, infertility is one major issue that is affecting women and men worldwide. Aside from a variety of gynaecological and systemic diseases that affect a female's fertility, other factors that contribute to this issue include unbalanced nutrition and an unhealthy diet. Being underweight or overweight is linked to an increased risk of infertility. So, it is imperative that you understand the importance of nutrition and maintaining a healthy diet if you're planning to start a family anytime soon, and this article is here to guide you. In this article, we'll read about the Importance of Nutrition in Fertility.
Importance of Nutrition in Fertility: How Nutrition Affects Fertility
Nutrients play a crucial role in female fertility because the nutrients present in many diets influence the implantation of normal embryos. Any nutrient that serves as an energy source and is consumed excessively or with restrictions can lead to problems. Moreover, it is vital to bear in mind that heavy alcohol consumption has an indirect effect on fertility, and smoking has been linked to a rapid decline in delayed conception, ovarian reserves, as well as increased risk of miscarriage. So, eating the right food as well as balanced nutrients are required for healthy reproductive performance. An unbalanced caloric and protein intake caused by improper food consumption can lead to ovarian function changes and an increase in infertility.
Foods That Can Affect Fertility
If you plan to get pregnant or enhance your fertility, your weight needs to be maintained and choose to consume food that will help to create a secure and nurturing environment for your baby during his or her nine-month stay. The food you consume must contain iron, folic acid, and other essential nutrients.
Fats
Trans fats have a negative impact on both men's and women's fertility and overall well-being. So, make sure that you Choose heart-healthy unsaturated fats like olive oil, avocados, nuts, seeds, as well as fatty fish like salmon at least twice a week. Obesity is one of the biggest reasons for failure of IVF. So your fat content is something you should always keep in check. . 
Plant-Based Proteins
According to research, replacing meat protein sources with vegetable protein sources reduces the risk of infertility. So, make sure that you eat soy, beans, lentils, quinoa, nuts, and seeds. Eggs and omega-3-rich fish are also recommended.
Whole Grains
Whole grains help to stabilise blood sugar, which helps in preventing hormonal fluctuations which can interfere with fertility. So, rather than food with refined carbohydrates, such as pasta, white bread, soda, cookies, etc., go for whole grain products.
Antioxidants
Antioxidants, which are the bright colours found in both fruits and vegetables, help to reduce oxygen damage. Choosing antioxidant-rich foods can help boost live birth rates. Vitamin C, found in citrus fruits, vitamin E, found in sunflower seeds, as well as beta carotene, found in orange vegetables like sweet potatoes and carrots, are all antioxidants that you should consume.
Iron
Non-heme iron found in fruits and veggies, as well as beans and supplements, improves fertility. On the other hand, heme iron found in animal protein has been said to increase infertility risk. So, you should consider taking an iron-fortified multivitamin or eating more non-heme iron-rich foods.
Prenatal Vitamin
Taking a prenatal vitamin containing the advised 400 mcg of folic acid both before and during pregnancy can help prevent congenital disabilities. Moreover, it also contributes to higher fertility. So, ensure that you eat these nutrients by eating eggs as well as fortified breakfast cereals.
Full-Fat Dairy
Several large scientific studies found that women who consumed high-fat dairy were 27% less likely to be infertile. Frequent intake of low-fat dairy products, on the other hand, has been linked to an increased risk of ovulatory infertility. Women who devoured two or more servings of low-fat dairy each day had an 85% higher risk of infertility than women who consumed less than one serving of low-fat dairy per week, according to researchers. Read more about the egg freezing process.
Alcohol And Caffeine
Women who consume alcohol are more likely to experience infertility. So, if you're trying to get pregnant, try to avoid alcohol. If you are thirsty for mocktails, go for non-alcoholic beverages such as sparkling apple cider or virgin mojito. When it comes to caffeine, it is safe to drink in moderate doses while trying to conceive. However, limit your caffeine intake to three cups per day.
Find A Healthy Weight
Being overweight or underweight can all have a negative impact on fertility. According to research, women with a healthy BMI of 20 to 24 find it easier to become pregnant. On the other hand, women with a BMI more than 25 may have difficulty becoming pregnant. So, you need to find the right weight so as to avoid being obese or underweight.
Read more: Top 5 dentists in Gurugram
Conclusion
Infertility is a major concern for couples who want to have children but are unable to do so. Most people believe that infertility is biologically determined and that it cannot be treated. However, this is not entirely true. There are several diet and lifestyle changes that can be made to help with infertility. Nutrition plays an important role, and as such, it should be prioritised. We hope this article helps you understand more about the importance of nutrition and a healthy diet to increase your fertility.