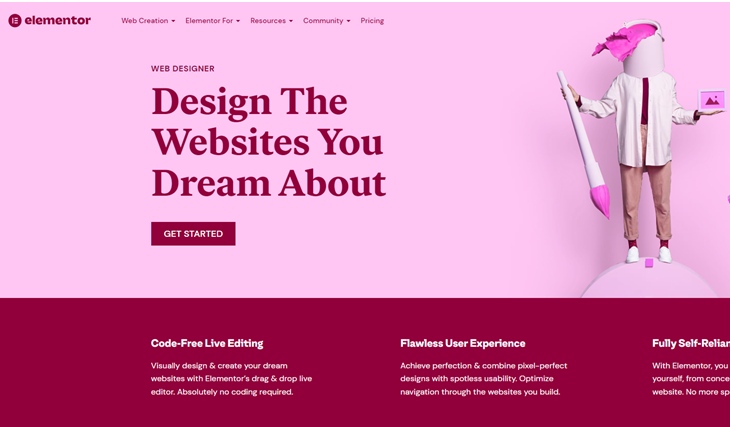 How to use Elementor: Your full setup guide for the WordPress website builder
Because of its many useful features, Elementor has quickly become one of the most well-liked WordPress page builders available today.
It is loaded with capabilities that allow the creation of individualized websites much easier than it has ever been. On the other hand, if you've just ever heard of this tool in passing, it's possible that it will appear mysterious to you.
Click here for SEO Company in Mumbai
What Elementor is and how it works?
The Elementor website page builder plugin was developed specifically for use with the WordPress content management system.
It incorporates a plethora of drag-and-drop features, making it possible for even new web designers to produce attractive websites that appear professional.
To do this, the plugin makes use of a comprehensive template library, hundreds of widgets, and a feature that tracks modification history.
The core Elementor plugin may be downloaded for free and is stocked with a variety of fundamental components.
If you desire more sophisticated functionality, Elementor Pro is available. The pricing for this premium edition of Elementor is tiered, with the lowest tier costing $49 per year for a single website and the highest costing $999 per year for 1,000 websites.
There is also Elementor discount code available to use which can give you 30% off on your pro plan.
Benefits of using elementor as a WordPress page builder
It is simple to use. The Elementor page builder's visual front-end editing capabilities, when paired with its widgets, make it extremely simple to use, even for inexperienced users.
Developers will like its adaptability and scalability. Elementor theme builder offers more advanced developers a powerful template library, a block editor, and total control over the output, which means they can learn how to use Elementor theme builder and run with it.
Huge variety in terms of possible styles.
Adjusting the design parameters inside a convenient editing framework may be accomplished through the use of the editor panel that has slider controls.
Widgets that operate on a global scale and save time. Widgets may be customized, adjusted, and saved before being reused on various websites.
Theme construction using a drop-and-drag interface. You may start from scratch and create an Elementor theme by utilizing the built-in widgets, or you can grab Elementor Pro templates to use as a starting point.
Integration of online shopping. You may construct an online store with the full responsive control you've come to expect from other builders that are compatible with WooCommerce by making use of the widget panel.
Integrated marketing tools as standard. Building out your web presence and marketing plan at the same time is possible when you learn how to use Elementor Pro since it allows you to customize the designs of forms, construct landing pages with Elementor, and use plugin widgets all at the same time.
A sizable community and marketplace dedicated to third parties. The active and supportive development community that exists around Elementor is one of its most significant advantages. It is possible to spend a significant amount of time exploring all of the Elementor page templates, WordPress themes, and add-ons that expand upon its fundamental capabilities.
How to install the Elementor page builder in WordPress
You will need an existing WordPress installation, along with a hosting plan and a domain name, in order to install Elementor. Once you have successfully signed in to the Dashboard of your WordPress website, navigate to the Plugins > Add New menu option.
In the event that you choose to purchase Elementor Pro (or if you choose to upgrade from the free Elementor plugin), navigate to "My account" on the Elementor website and click the option labeled "Download Plugin." Your PC will be saved with a file in the ZIP format when you do this.
Next, when you have successfully logged in to your WordPress dashboard, go to Plugins > Add New. You will need to select Install, then Activate once you have uploaded the ZIP file that you have just downloaded to your computer. In order for this to function properly, the free version of the Elementor plugin will need to be installed on your website and activated.
After reaching that point, you will have to activate your license. To accomplish this, navigate to Elementor > Licence and then click on the Connect & Activate button once you're there.
Click the Connect button that appears on the following screen, and after that, sign in to your Elementor account.
You will now be taken back to the dashboard after this. You shouldn't see the notice that was previously displayed at the top of the screen urging you to activate your license.
How to use elementor: Step by step
Now that the installation has been finished, it is time to get down to the business of learning how to utilize Elementor in a real-world context. Installing the Envato Elements plugin, which makes a collection of Elementor page templates accessible from within the dashboard, is something that is strongly recommended by Elementor. It is imperative that you have the basic WordPress theme installed and that it is active.
In order to get started, head over to the Elements menu in the WordPress admin. You have the option of selecting from free or paid template kits, so choose the one that best suits your needs. The next step is to select a format that works for you.
You may import a homepage design by scrolling down the choice of templates and selecting the one you want to use, you can see how I used a custom designed template on Bloggervoice. Repeat this process for each new page template that you wish to build specifically. People frequently decide to make About, Services, and Contact Us pages for their websites. It's possible that you have different preferences, though.
After you have generated your pages, you can next start editing them using the Elementor plugin. To accomplish this, navigate to Pages > All, find the page you wish to change, and then click the Edit with Elementor button that appears.
As soon as the page finishes loading, the Elementor editor will become active and ready for use. You can tell that the editor mode is active by looking at the left-hand side of the screen. And on the right-hand side of the page, you should see the editor preview, which is effectively a live representation of your website that can be reorganized, reformatted, and modified directly by you.
When you are in the editing mode, the content is broken up into Sections; thus, when you move your mouse over them, they should become highlighted in a light blue color.
If you click on a Section, you will be able to immediately change the material that is included within it. The Control Panel may be accessed by right-clicking, which will bring up the relevant menu. You can see how, after clicking on a picture in the template, the control for the image displays on the left side of the screen in this example.
The procedure is very similar when working with widgets. If it's already included in the design, all you have to do is click the icon that looks like a grey pencil to enter the editing mode for that particular widget. This will be displayed once more on the left-hand side of the page.
If you want to make changes to an image carousel widget, you can click on it in the prepared template, then make changes to the settings by adjusting the size, relevant text, and pictures. If you want to make changes to an image carousel widget, you can click on it in the predefined template.
You may begin to think about styling as you advance through the process of learning how to utilize Elementor templates and as you get the layout of your page to where you want it to be. Both on a global scale (across your whole website if you are using Pro) and on a widget-by-widget level, you have the ability to change the colors of your website's widgets to suit your preferences.