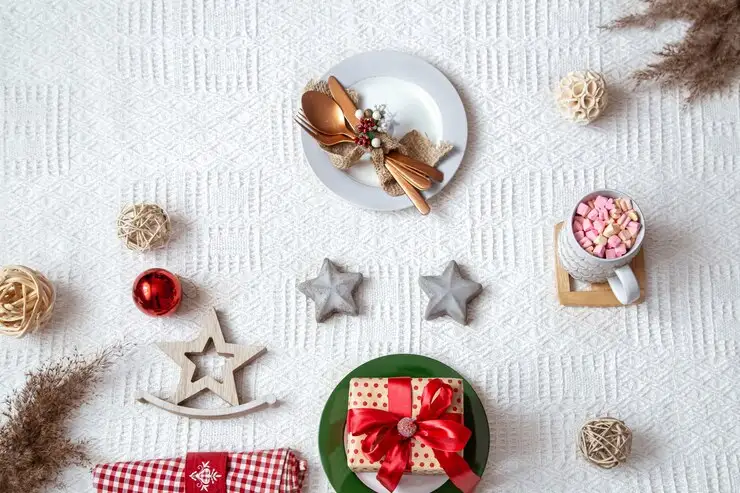 How to set a stunning Holiday Table in 5 Simple Steps
We all know a stunning Holiday table can steal all the attention in any gathering. A Holiday table moment is crucial and a challenge to get the perfect vibes. An eye-catching table setting is the first thing that attracts the guests. It shows how the rest of the evening will be spent and excites your guests for the party.
A beautifully decorated table can make a stunning start to any event meal. So make sure to do your best to set your table to impress your guests. So let's know the tricks to form a stunning Holiday Table in a simple five steps.
Designer Tablecloth for the Table
Grab a designer tablecloth that must-have embroidered designs like leaves, flowers, or anything particularly related to the holiday. For example, you are going for a Christmas holiday table, and then you can go for some bell or leaves embroidered tablecloth. For New Year's evening, you can pick some sequined or block printed design tablecloth that gives the holiday table a stunning appearance in front of your guests.
You can choose either colors like charcoal or purple or light pink or nude for a relaxed feel. You can also put a lovely meal note for your loveable guests for acute feeling. Try to keep the napkins in the same color as the tablecloth. Or you can pick some striped patterns or floral napkins of your choice.
Color Scheme
Don't mix and match and make it clumsy. Instead, stick to a color scheme and give your holiday table a stunning appearance. For example, if you are going for pastel hues, stick to two or three colors like powder pink, beige, nudes and make the table look classier.
For a festive party table look, you can pick red and gold, giving the stunning holiday table the perfect vibes. You can also choose one bold shade like purple and one light shade of hue like pink and decorate the holiday table in a glamorous way.
Trendy Cutlery
Pick up the classy yet trendy cutlery that makes the table look more adorable. Choose any silver or gold one and transparent glasses for serving beverages like cocktails or mocktails. Select the wine glasses for serving wine that makes the holiday table into the next level. Next, one can go for cutlery, including plates, glasses, fork, spoon, and knife. Pick up the textured bowls and plates that give natural vibes and feel to your guests.
A Floral Centerpiece
Go for an attractive floral centerpiece that has the scent of soft flowers like berries or roses. Besides this centerpiece, put some flavored candles, small vases and display them randomly on the holiday table.
Make it natural by selecting pastel and nude hues. Also in case, you don't want to put a floral centerpiece, you can go for a table lamp or some lighting centerpiece and decorate it with some natural flowers or ribbons to make it look more attractive. You can use different sized and color candles to get a beautiful look.
Keep it Simple!
Don't make the holiday table look clumsy. Try to make it classy in a simple way. Arrange everything systematically and give a stunning appearance to your holiday table. Plan everything like keeping the centerpiece, flowers, candles, cutlery, and glasses. Choose a suitable color scheme according to the event and grab the lovely compliments from your guests. Remember, simplicity is the key to winning hearts. Arrange everything in a proper distance that makes every element organized and looks symmetric.
Final words
So taking everything into account, these are the five simple steps to set a stunning holiday table. Go for these steps and adorably decorate your table for any event. Charm your guests and wonderfully greet them by setting up a beautiful holiday table.
Try to remember a few tricks like simplicity is the key. Make everything simple in an adorable way. Pick up the beautiful hues that go with the background and other elements. Keep all the features in a balanced way. The beautiful table setting can give positive vibes and a good signal to your guests to expect a charming, fun evening.