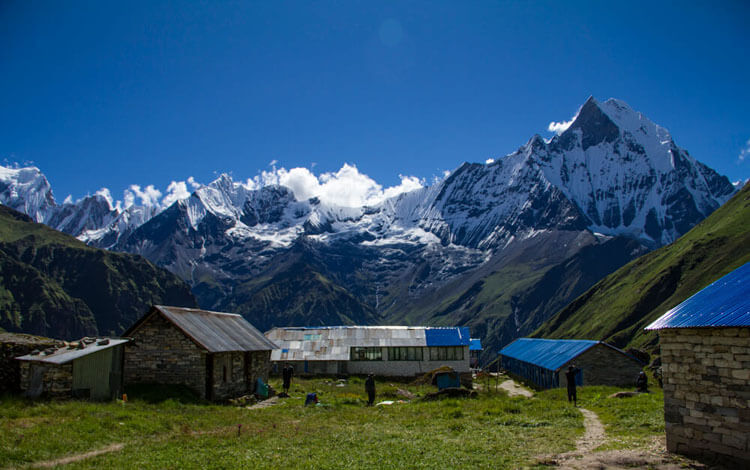 Annapurna Base Camp Trek – A Backpacker's Guide
The Annapurna Base Camp Trek is an epic high altitude trekking route that spans multiple environments within the Annapurna Sanctuary National Park. The trail first winds through beautiful forest and rice paddy terraces before ascending to Annapurna Base Camp at an altitude of 4100m. The landscape changes rapidly as you gain altitude out of the rainforest and hike through knee-deep snow between spectacular snow-capped peaks.
Trekking in Nepal is a wonderful experience. The ABC Trek is one of the region's most spectacular routes. Many trekkers choose this route as a shorter and cheaper alternative to the Everest Base Camp trek. Base Camp is a surreal environment surrounded by the highest peaks in the world. Annapurna I (8091 m), Annapurna South (7219 m), Fishtail Machapuchare (6993 m), Hiunchuri (6441 m). The trek to Annapurna Base Camp is accessible from multiple trailheads and takes between 6 and 12 days to complete, depending on the route.
This post explains different options for trekking to Annapurna Base Camp and how to combine ABC with other trekking routes such as Annapurna Circuit, Poon Hill and Mardi Himal Trek. The trail is easily accessible by public transport from the beautiful lakeside city of Pokhara. Since it's a teahouse stroll, there are many cheap guesthouses along the way where you can stay and eat. We discuss costs, itineraries, guides, porters, altitude sickness, and offer packing and planning tips.
Annapurna Base Camp Trek Overview
Distance – 80 km/50 miles
Duration – 6-7 days
Total Ascent – ​​4975 m/16 322 ft
Total Descent – ​​5040 m/16 535 ft
Highest Point – Annapurna Base Camp – 4147 m
Difficulty – Intermediate
Permit – TIMS Card – NPR 2000/US$17 and Annapurna Sanctuary Permit – NPR 3000/US$25 pp.
Daily Cost – US$27 per person including permit and transportation .
Guide – not required but can be done alone, with a guide/porter or in a group
Accommodation – Guesthouse
How to Annapurna Base Camp Trek?
Trekking to Annapurna Base Camp is offered by several agencies in Pokhara as an all-inclusive package including guides and porters. Doing this trek with your own staff is also popular, guides and porters are easy to find in Pokhara and this trail is cheaper than package him tours. A fully independent hike is the cheapest way to reach the Annapurna Base Camp. The route is clearly marked and easy to follow if you can carry your own backpack.
Hike several routes in Annapurna Sanctuary National Park. A direct route leads to Annapurna Base Camp via Australian Camp, Randurk and Deurali. The trek is often combined with the Poon Hill He trek and the trek on this route starts at Nayapul and from there the trek continues to Ghorepani (2750m). Trekkers usually stay here to trek up to Poon Hill (3210 m) for sunrise. The route then continues to Annapurna Base Camp via Tadapani.
Cost of Annapurna Base Camp Trek
The cost of trekking to Annapurna Base Camp depends on the type of trek you plan, the trekking route, the time on the trail and the season you choose to trek. Overall, Annapurna Base Camp Trek costs less than Everest Base Camp Trek due to lower transport costs. ABC's departure point is a short bus ride from Pokhara.
All Inclusive Trek Package
Tours can be booked through local agencies upon arrival or in advance through online agencies. Most international and local businesses use the same local guides and porters. Ultimately they are responsible for your safety and you want to go with a company that has the best people, so give your money to a company you trust. 7-day Annapurna Base Camp treks with local agencies are often all-inclusive. Tour guides, porters, accommodation and meals. The price in Pokhara is around $500. WiFi, hot showers and snacks require an extra charge.
Trekking with an International Agency
7D6N Annapurna Base Camp Trekking with Reputable International Agency Klook – Starts and ends in Pokhara. You can choose from an all-inclusive option or a more flexible breakfast-only option.
Tour includes guide, porter and all accommodation. Wi-Fi and hot showers are extra.
Trekking with a Porter and Guide
Arranging your own trek with a guide and porter sounds very expensive, but it is actually a very affordable way of trekking. The route was easy to follow and fairly well marked and if you were unsure about a route you could ask someone for the right way. If you're hiking, a guide is a good idea. Hire a porter if you don't want to carry your own luggage. Many solo trekkers hire a guide to accompany them. Trekking alone is not good, but supporting the local economy is good.
Guide 7 days x $25 = $150
Porter 7 days x $20 = $140
Independent Trek = $195
total $485 significantly lowers its overall price.
Checkout more content