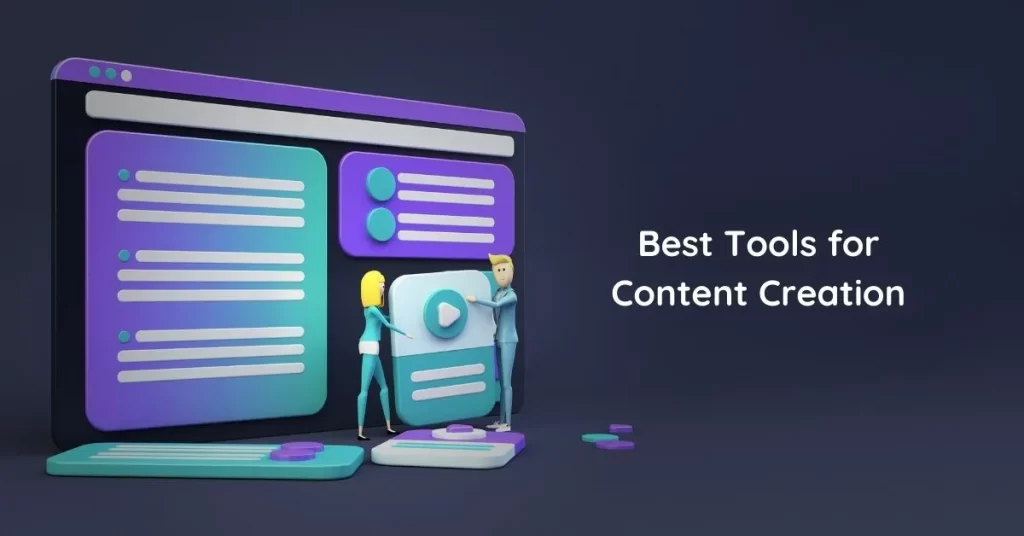 13 Best Tools for Content Creation in 2022
Creating content is challenging, especially for people who are experts in their field rather than writers or designers. Even so, everyone has to put their ideas into words and images at some point. Fortunately, there are plenty of best tools for content creation that make it easier to create content. These tools out there can help you design your content before you begin writing it.
Content creation tools make it easier to create visual content that will appeal to your audience without the challenge of trying to do so with just words and screenshots. These tools help you create the perfect image, video, or document without the use of photo editing software or a team of graphic designers.
What are the Best Tools for Content Creation
There are many different types of tools out there that can shorten your workflow and save time when creating content. Here are some of the best tools for content creation that can make it much easier to create visual content as well as documents or webpages with little hassle and plenty of ease.
Nimbus Capture
Nimbus Capture is an amazing Google Chrome extension for screenshots and screen recording. I like this tool because you can record videos on your screen for up to 5 minutes for free. This tool is helpful if you want to record video tutorials, online games or apps and upload them to YouTube.
I use this in addition to my main screen recorder to record clips for my video editing tutorials. The free version is suitable for short videos, but you can get more features, including unlimited recording with one of the premium plans. You can also do full-page screenshots and annotations with the premium plans.
Screely
If you've taken some nice website screenshots, you can show them off with another useful tool called Screely. Screely is an excellent tool for generating website mockups. Simply drag in your website screenshot, and it will create a browser mockup.
You can change the window type for a different look or adjust the background colours. You can also change the padding or completely remove the background and download it. This tool is useful if you have a website or an app that you want to show off and promote on social media.
Namecheckr
If you don't have a website or online business, but you're thinking of starting one, you'll first need a name. That is where Namecheckr comes in handy. This tool allows the user to search for brand names and check if they are available on various social media platforms.
Namecheckr also checks to see if the dot com is available, which is insanely useful to know before starting a brand. If your potential domain names are constantly unavailable, you should find the following website helpful.
LeanDomainSearch
Leandomainsearch allows you to search for alternatives to your potential domain name. Just type in your name, and it will come up with variations that are available by adding words to the beginning or end. You can then sort by popularity, length or alphabetically, or filter with your search term at the beginning or the end.
Unsplash
Unsplash is one of the best tools for content creators who already have a website and want to add some photos to it to make it look more professional. Unsplash is probably one of the best and most well-known free stock image websites.
Unsplash provides high-quality pictures for free download and use in commercial and non-commercial purposes. There is no need for attribution, and it is the best tool for any stock photographs for business purpose.
I've used pictures from this website on numerous websites I've created and different marketing material I've put together. They constantly add new photos, so the collection keeps getting bigger and bigger, giving you more choices.
Photopea
If you need to edit or manipulate photos, check out Photopea, a free online photoshop alternative. Photopea is an excellent tool because it works on any browser, and you don't need to download any software.
Photopea lets you edit photos, apply filters, apply effects, add text, crop, or resize pictures. You can take photos from Unsplash and edit them here. You'll pick this up fairly quickly if you're familiar with photoshop.
However, there are plenty of online tutorials to learn the software. Photopea is excellent content creation tool if you want to get started in graphic design, learning how the layers work, different selection tools, and the clone stamp tool.
Pexels
If you need stock videos, then check out Pexels. Like Unsplash, they offer free stock photos, but they also have a massive selection of videos. All images and videos on Pexels are free to use for commercial and non-commercial use, and no attribution is required.
You can use these videos to promote your products, post it on your website, add them to YouTube videos, or share them on social media. You can download videos in HD with no login required. However, if you create an account, you can save collections or follow your favourite creators. You can also upload your own pictures if you want.
A bonus site I use in conjunction with Unsplash and Pexels is Pixabay, which offers high-quality images and videos for free. Pixabay also offers illustrations, vector art, music and sound effects.
Icons8
What if you want transparent images and png images? Well, my following useful website will have you covered. Check out Icons8 for tons of photos and transparent png. You'll find a wide selection of images with a transparent background on this website.
You can use these images for free, but you need to link to icons8. They also have paid plans where you can download higher resolution images, and you don't have to add a link. Icons8 is something to consider if you're working on larger projects.
Canva
Canva is one of the best tools for social media content creation. Canva is a free to use online graphic design tool. You can use it to create social media posts, banners, logos, posters, and even edit videos. There are thousands of pre-made templates so you can get inspiration and create content quickly. I mainly use Canva to make social media posts and YouTube thumbnails.
Invideo
If you want to make quick videos, then check out Invideo. It's an online video editor that you can access in the browser. You don't need to download any software to use this software. You can make video ads, YouTube intros, listicles, presentations, etc.
Invideo has over 5000 video templates that you can customize to make your own videos quickly and easily. It has a free plan with a watermark, then paid plans with no watermark and access to premium templates and premium stock media.
Notion
Another useful tool or app worth checking out is Notion. It's an online note-taking app. This tool is useful for content creators because you can plan your content, store links, store information, do some research or generally organize your ideas.
Wetransfer
Wetransfer allows you to send files up to 2GB to anyone with an email address for free. It's super simple to use. You need to upload your file, enter the recipient's email, and click transfer. It is handy if you need to send large video files to people. For example, YouTubers might want to send video files to an editor in another country, and then the editor can send back the finished version.
Audacity
If you need to record audio for YouTube videos or podcasts, it's worth checking out Audacity. Audacity is a free multi-track audio editor that you can use on MAC, Windows or other operating systems. I use Audacity for my YouTube videos to remove background noise and do some audio levelling before I put it into my video editor. Sometimes I might use it to cut audio or cut clips from it.